Oh my gosh. It's Monday. Eliana didn't update yesterday -even though it was SUNDAY. How could she? Why would she do this to us?
I'm sorry guys. I really am. This three day weekend went straight to my head. I was busy yesterday. Falling in love. With who?
This bad boy.
The Canon Powershot SX40 HS


Is he amazing? Isn't he fine? He's a real beaut. Look at him from the side.
He has 35x magnification
Let me say that again- 35X magnification! 35! 35! BUT WAIT!
ELEPHANTS
Guess who's listed as #8 on the list of something or other an Amazon. Has 5 out of 5 stars on Canon's website. Yeah, this guy.
I'm sorry, I know I owe you more than that weak apology. I owe you one.
Doesn't do it justice....
Here's a special birthday cake - unfortunately the old camera is out of commission, so none of these pictures are my own. It's an OREO cake!
Say what?
Yeah! Oreo cake!
Not to mention, the frosting recipe comes from my FAVORITE cookbook. It's called "The Golden Book of Chocolate". The pages are gilded.
Bake Temp: 350
Prep Time: 20 minutes
Bake Time: 35-40 minutes
Total Time: 1 hr, 25 minutes
German Chocolate Cake:
Fun fact! The German of German chocolate cake is a person, not the country! Samuel German, an employee of Baker's chocolate factory entered this recipe into a competition.
4 oz. semi-sweet baking chocolate
1/2 cup water
2 1/4 c flour (or 2 1/2 cups cake flour if you're feeling fancy)
Dis is what your cake will be, I promise
1 tsp baking soda
1 tsp salt
2 cups sugar
1 cup butter (room temp!)
4 large eggs
1 tsp vanilla
1 c buttermilk
Frosting:
3 cups confectioner's sugar
1 cup butter (room temp)
1 cup cocoa powder (for chocolate)
2 tbls vanilla (for vanilla)
2/3 cup milk
CAKE TIME!
Grease three pans. Let me say again, 3 pans. That's right! It's a tri-tiered cake! To make it super-easy to remove the baked cakes, put a layer of wax paper or parchment paper at the bottom of each pan. Additionally, for an awesomer cake, you can make the tiers different sizes!
Begin by melting the chocolate and water together in a pan. Mix carefully so it doesn't burn. Once the chocolate is completely melted, set aside to cool while you mix the rest of the batter.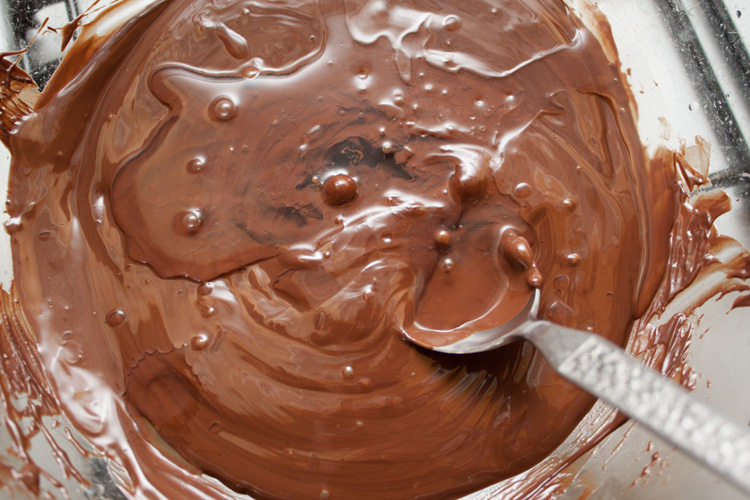 Combine flour, salt and baking soda together. Now, in a separate bowl, beat together the sugar and butter until it makes a paste. Carefully now, separate the egg yolks from the whites. Beat the yolks in one at a time and save the whites for later!
Beat in the vanilla and buttermilk and chocolate mixture. Now, sift the flour mixture in and stir until just combined. Pour into each pan in equal amounts. Bake at 350 for 35-40 minutes.
Note the crumbly surface - this is from the egg whites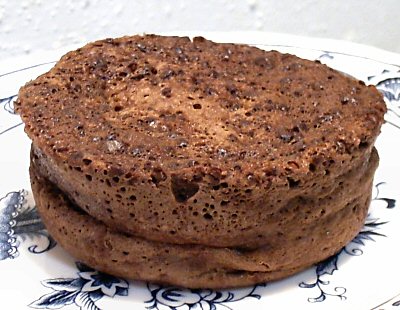 Now is the fun part! Beat the egg whites until they are stiff. Fold into the batter.
As the cake bakes, begin working on the frosting. Beat the butter into a mushy pulp. Stir in the confectioner's sugar. Mix together for several minutes. Now, add in the cocoa powder or vanilla, depending on which flavor you want. Mix in the milk. For the vanilla, you may wish to use closer to 1/3 of a cup because you have fewer dry ingredients, or add in more sugar. Let chill in the fridge until the cake is down and cooled.
You definitely want to make sure the frosting and cake are cool before frosting the cake. It makes the frostingability much higher!
But I bet you're wondering why I called it an oreo cake. So. Here's what we did - we split the frosting equally into two bowls. One was made into vanilla, one was made into chocolate. the inner layers of the cake were frosted with vanilla and the outside with chocolate. The cake was topped with oreo crumbles! Yum!