Personal pasty sounds so cute. Petite pies are one of my absolute favorite foods- what is more delicious than a single-serving pie? Especially when there is steak involved. Mmmmmmmmm.
When my siblings and I were little, we used to go to a Medieval Fair in New Hampshire every year. It was an incredible event. People were dressed up wearing poofy gowns and suits of armor. There was a man (an employee, I'm hoping) who walked around just covered in mud and stinking to high heavens. There were little shops, each in a tiny tent selling things like bow and arrows and swords. There was a jousting tournament and games and even a camel ride, although I'm still a little confused how that got thrown in there. And the food. Oh my. They sold individual pasties. The fair always seemed to arrive at the hottest part of the year, and we'd get grumpy after hours of wandering around with little water and no food, but the pasty seller was always there to save us.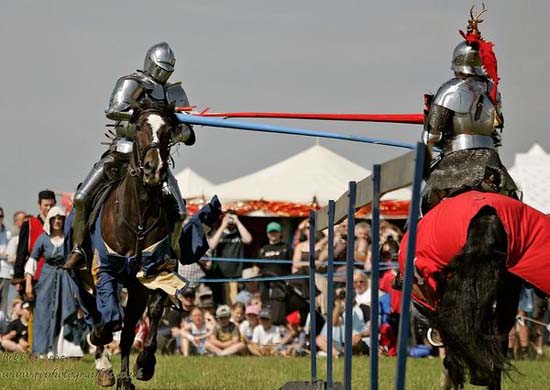 Imagine if people still solved problems by doing this...
Sometimes I worry that when I'm older and trying to remember my childhood, I'll think back to a time when I was snarfing down a pasty as I weaved through a crowd of knights, ladies and jesters and I'll forget what time period I'm from. My grandkids will hear stories of my adventures at that fair and tell their friends that Grandma is several hundred years old.
In other news, happy second night of Hannukah! I'm writing this by menorah-light. Living in the dark ages. Ahhhh! No! I'm not! I live in modern times! Gosh, I need to stop this.
Well. Where were we? Oh yes, personal pies.
Oven Temp: 350
Prep Time: 1 hour labor, 2.5 hours cooling
Bake Time: 1 hour
Ready-In: 4.5 hours
Just as so many other recipes have begun - let's start with the pie crust:
2 1/2 cup flour
1 tsp salt
1 stick butter (1/2 cup), chilled
1/2 cup veggie shortening, chilled (I use Smartbalance)
1/2 and 1/4 cup water, chilled
Filling:
2 tbls veggie oil
Chef Eliana
8-10 ounces of steak, in 1/4 inch cubes
1 small onion, chopped finely
2 tbls flour
1 1/2 cups chicken broth
2 medium potatoes, peeled and chopped into 1/4 inch cubes
1 carrot, peeled and chopped into 1/4 inch cubes
1 tbls basil
1 tsp sage
1/2 cup cheddar, grated (optional)
1 egg beaten with 1 tbls water (to brush over pies)
Begin by making the dough.
Cut butter and shortening into salt and flour until it forms a loose dough.
Okay...don't cut it like this.
If you squeeze a handful it should hold for a second and then crumble. Pour in 1/2 cup of water and knead. If still loose, add in one tablespoon of water at a time until it tightens up. It should be very soft and fluffy feeling but able to hold together nicely. Flatten into a disc, wrap and put in fridge for 2 hours, and up to 3 days.
In the meantime, you can make the meat mixture.
Prep involves lots and lots of chopping
It will need to simmer for about 2 hours, so be mindful of that. Heat up the veggie oil in a pan over medium heat. Sear the meat on both sides until they are crusty brown (about 4 minutes per side).
Remove steak. Put onions in pan, saute them until they are well browned.
Put meat back in and sprinkle flour over the top. Pour in the chicken stock and mix. Let simmer for about 90 minutes, stirring once in a while. Add in potatoes, carrot, salt, pepper, sage and basil. Let simmer for another 30 minutes. Remove from stove, place in bowl to let cool.
At this point, the dough should be ready. Preheat over to 350. Divide the dough into 6 balls. Roll each out into a circle or square.
Spoon out meat mixture on to one half of each pie. Layer some cheese. Fold the clean pie side over and pinch edges with a fork. Lay out on baking sheet.
Paint with a thin layer of egg. Bake for 1 hour, switching the sheets half way.
These hold up pretty well for a couple days after they are made.