There are some strange foods out there. I think the one that stands out most to me is the Reuben Sandwich. What is a Reuben?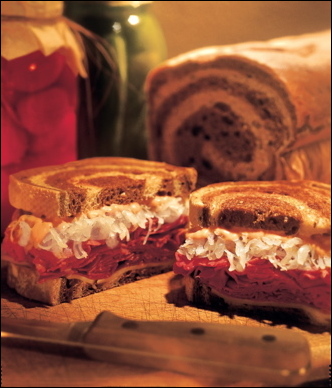 It's corned beef. It's sauerkraut. It's Swiss cheese. It's thousand island dressing. On rye bread. Let me just say that I don't like corned beef or sauerkraut. I also don't like Swiss cheese. I hate the idea of putting dressing on a sandwich. Oh, and rye bread is one of the six foods that I hate.
But I like a Reuben sandwich. I don't know how and I don't know why, but Reuben gets me. Maybe it's because he's the underdog, fighting against the food outside to win my affection. Maybe it's because sometimes when things are so repulsive they become good. Or maybe it's just a fluke of nature. Whatever it is, sometimes when you mix such gross things together, they come out good.
Lots of people don't like anchovies. But this is good. The flavor of the fish is so mellow you hardly notice it.
2 tablespoons extra virgin olive oil
4 large garlic cloves, peeled and slivered
4 oz of anchovy filets (About 16 filets) (and it's good if they are packed in olive oil!)
1 lb linguine or other long pasta
2 cups arugula, washed, dried and chopped
Red pepper flakes
Salt and pepper
First thing - set your pasta water boiling. You will end up needing about a cup of the pasta water later on, so it's good if you make the pasta the day of.
In a large skillet (you'll be pouring the pasta into here at the end) heat up the olive oil from the anchovies. If they did not come in that for whatever reason, use 2 tablespoons of olive oil. Heat up at medium heat for a minute. Add the garlic and the anchovies.
A little note - I like more anchovies personally, you may wish to use less that 4 ounces.
I'll admit I was a tad confused to see that these anchovies came with "Added Salt"
Anyways, wait until the garlic is sizzling and the anchovies are broken up. Turn the burner down to low. Add the pasta and arugula and enough water to make a sauce at your desired thickness.
Mmmmmm....
Toss and turn on medium for one minute. Add salt and pepper to taste and viola! You are done!
At the end, I always like to add a little Parmesan cheese on top!